Ocean State Pyrotechnics special effects division is a full production multi-faceted shop with a highly experienced crew. Headed up by Film and Television Special Effects Coordinator John Ruggieri and Master prop maker and carpenter Jay Stone
We can provide just about any effect,  gag or prop that you can think of.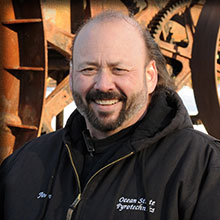 Special Effects Supervisor John Ruggieri has worked on a multitude of shows all over New England and New York. With years of experience in all types of special effects and his attention to detail, John brings a total package to every job.
Along with this, John is a level 8 Master Pyrotechnist and his pyrotechnic skills can be seen in movies and T.V. shows filmed all over the New England area. Fully licensed, bonded, and insured, for storage, transportation and actual shooting.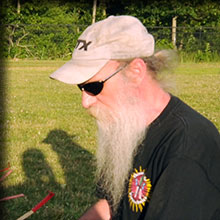 Jay Stone is Ocean States Pyrotechnics Renaissance man. After just 30 plus years in the Film, Television and Theater business, Jay has become a world-class expert in props and wood working of all types. You name it: Foams, Plastics, Breakaways, Jay has done it all. Check out samples of his creations in our prop section.
Jay Stone also carries a State of Massachusetts special effects license and is the OSHA training instructor for Local 481 Studio Mechanics Union.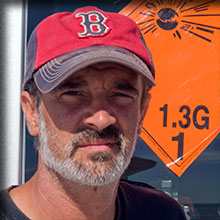 Special Effects Foreman Ralph "Butch" Wilber has been the right arm (not hand) for Ocean State PyroTechnics for over two decades. Licensed in several states and fully experienced in all special effects and display fireworks, Butch is the safety-training instructor for Ocean State PyroTechnics.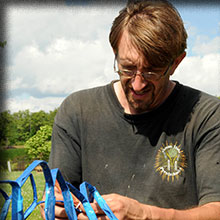 Lead PyroTechnician and D.O.T. Compliance Officer, Sam Dinwiddie has been with Ocean State Pyrotechnics since our inception. He has been one of our top techs for 14 years. With artistic creativity and a sterling safety record, Sam is one of the shooters that others look to for tips on becoming a more precise tech.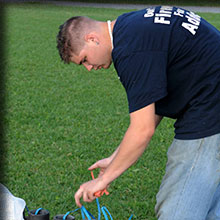 Lead Pyrotechnicion and Director of Operations, Shawn Lindell. Young and talented, we look to Shawn to be a force for Ocean State Pyrotechnics for many years to come.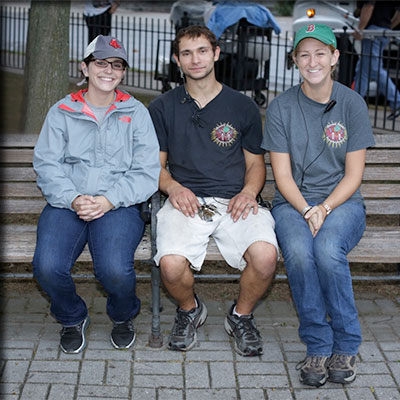 Taken on the set of The Purge (l to r)
Dee Roche (Special Effects, Office Coordinator), Tommy Carroll (Special Effects Technician & OSP Shop Foreman) and Melissa Asci (Special Effects Technician and Office Manager).
So if you need:
Snow (falling or dressing)
Rain
Wind (from a light breeze to a hurricane)
Fire (fireplace, bonfire, car fire, building fire and yes even people fire)
Explosions
Smoke
Fog
Blood Gags (bullet hits, pumping, oozing, spraying, dripping)
Water Gags (Waterfalls, dump tanks, water cannons)
Car Gags (crashes, flips, glass & windshield breaks, tire explosions)
Breakaway Glass, Furniture, (and a whole lot of other stuff)
Pyrotechnics (of course) in most any size and effect in the business
We have you covered.
We also have a full line of effects for promotional events, weddings, parties, ground breakings, etc.
If your event calls for:
Confetti or streamers (blown in, and with, air cannons)
Indoor Pyro (sparks, gerbs, ice fountains and more)
Close Proximate Fireworks (for small outdoor venues
Balloon Drops
Etc., Etc., Etc.
Fireworks, Pyrotechnics, Special Effects, Props
Just call: 401-480-2318